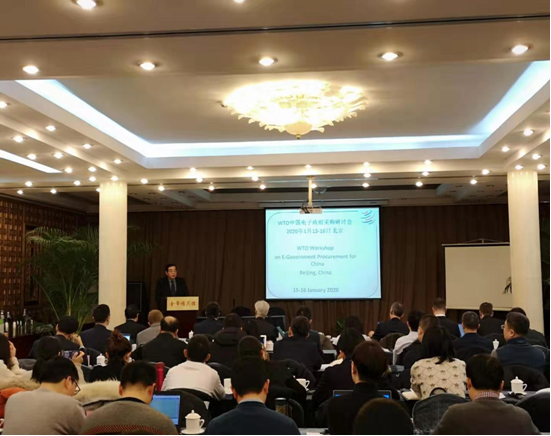 The Department of Treasury (Office of Government Procurement Administration) of the Ministry of Finance held an international seminar on electronic government procurement (e-GP) in Beijing on January 15 and 16, 2020. The department's Deputy Director General WANG Shaoshuang attended the meeting and delivered an opening speech.

Experts from international organizations, such as the World Trade Organization (WTO), the European Bank for Reconstruction and Development (EBRD), the Open Contracting Partnership (OCP) and the World Bank (WB), were invited to attend the meeting.

The 80-plus participants also included representatives from the National Development and Reform Commission, the Ministry of Commerce, the Logistic Support Department of the Central Military Commission, centralized procurement institutions in Beijing, software companies, departments or bureaus of finance from Beijing, Yunnan, Henan, Zhejiang, Shaanxi, Jiangsu, Hainan, Fujian and Guangdong, and research institutes.

The seminar had in-depth exchanges and discussions, mainly on the issues of e-GP requirements upon joining the Government Procurement Agreement (GPA), international experience of e-GP, the Open Contracting Data Standard (OCDS) and its applications.